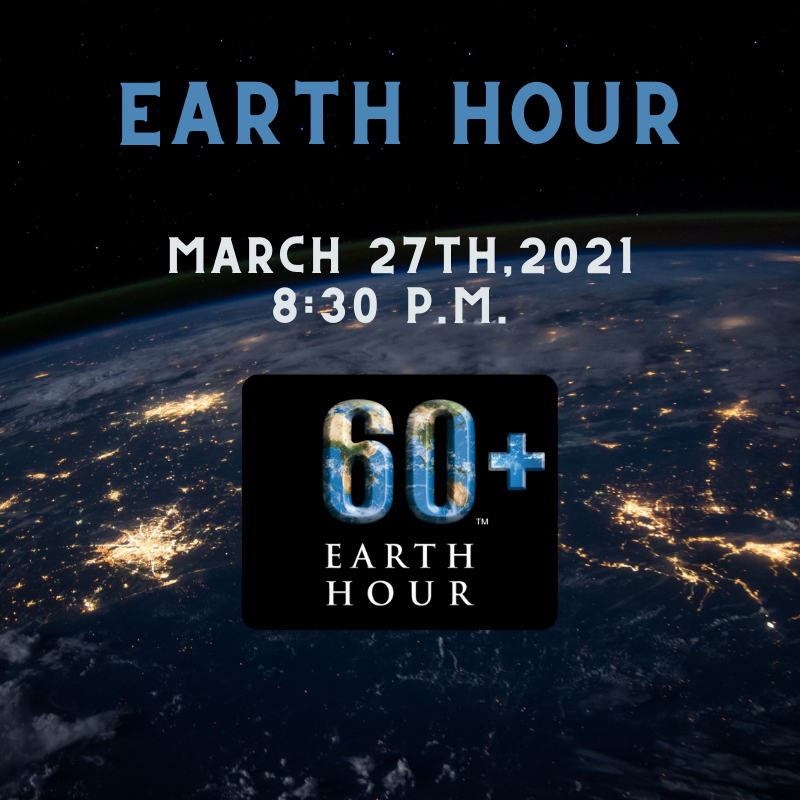 Saturdays with Shavara 
The hours before Earth Hour 2021
Greetings green friends and thank you for joining me on this lovely Saturday. Today is a very special day, a day that we can participate in an event on a global scale that symbolizes our commitment to preserving our planet and her natural resources. Tonight at 8:30 p.m. people from around the globe are urged to shut off their lights for an hour during Earth Hour, at which time we can reflect on the ways we can better practice sustainability. If this is the first you're hearing about Earth Hour, or the first year you plan to participate you're in for a unique COVID-19 safe experience, as this will be the first ever "Virtual Spotlight," where people are urged to discuss issues facing our planet on a virtual platform. Hopefully this will mean that there are even more discussions taking place with people having the ability to connect from far corners of the world. 
Before I get too ahead of myself let's get into some more details about what Earth Hour is and why it came to be such a globally participated in event in the first place. 
Earth Hour was started back in 2007 by the World Wildlife Fund organization, and in that first year alone they had more than 2 million people participate in Sydney, Australia. The event gained so much attention that in a single year of its inception millions of people began participating from around the globe. Some of the most famous landmarks like the Colosseum in Rome and the Golden Gate Bridge in San Francisco were noted to going dark for the hour to remind the world that our central focus must be for a healthier planet. In 2009 Earth Hour officially became the world's largest grassroots movement for the environment and continues to break records when it comes to mass participation from so many parts of the world. This collective push towards preserving natural resources sparked by Earth Hour has led to many changes across the globe.
Let me also point out some specifics of why the choice was made for day and the reasoning for the day.
 Earth Hour is held on the last Saturday in March every year because of the spring and autumn equinoxes in the northern and southern hemispheres aligning so harmoniously that the sunset times on both hemispheres are practically the same. By timing this event just right the visual impact of this global darkened spectacle simply can't be ignored, which is the goal of course. Earth Hours mission and reason for the visual support from the globe is geared to increase awareness and spark conversations globally on protecting nature, not only to combat the climate crisis, but to also ensure our own health, happiness, prosperity and survival. The theme for 2021 is "Climate Change to Save Earth." This theme was selected based on the fact that climate change has become one of the biggest concerns for people across the world in recent years. 
You may be asking yourself at this point what you can do to support this event? The short answer is to shut off any non-essential lights in your home or business starting at 8:30 p.m. until 9:30 p.m. (or longer if you can stand it). You can take this "unplugged" opportunity to discuss with family or friends what actions can be taken to make a community difference moving forward or try writing a candlelit letter to your future environmental steward self on changes you plan to make. You can get the kids involved by including some fun candle lit activities like putting on a shadow puppet show about living more sustainably or collectively painting a nature scene to hang in your home as a reminder of the time spent recognizing this global event. What you choose to do or not do with your hour is as meaningful as what the day symbolizes, it's a chance to detach from the noise of the world and ground yourself back into mother nature and her protection. I will leave you here folks to get ready for this evening and join the millions across the globe standing up for the protection of our planet. 
Until next time and remember to; Reduce, Reuse, and Recycle when and where you can!
KOB's very own Content Writer,
Shavara J.
References: