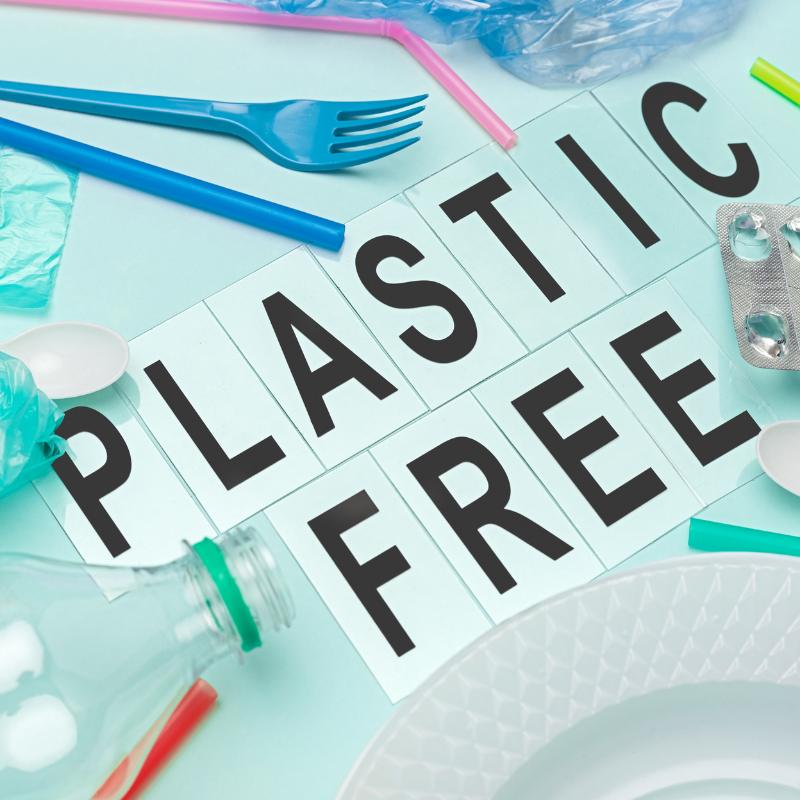 Saturdays with Shavara
Survival Tips for a Plastic Free July  
This July we will celebrate another year of the "Plastic Free July Challenge," which is a new-ish challenge to go plastic free for the entire month of July. Plastic Free July is one of the key initiatives of the Plastic Free Foundation that allows the organization to work towards their vision of seeing a world free of plastic waste. From their modest beginning in 2011, the award-winning Plastic Free July campaign is the result of years of diligent hard work. The campaign was started by Rebecca Prince-Ruiz, who is the the founder of the Plastic Free Foundation along with a small team of local government officials in Western Australia, today the environmental campaign is hugely popular, and people participate all across the world. Roughly 250 million people in 177 countries across the world that take part in the challenge and many go on to make commitments to reducing their plastic pollution beyond the month of July and some go on to commit to living completely plastic free lifestyles.
Plastic is all around us and is used in literally the most common, and frequently used items we use. Plastics have become so much a part of our lives that avoiding it can feel like an impossible task. The plastic free July challenge really drives home the point that my own personal obliviousness to the amount of plastic I use really must be addressed, and I do mean beyond carrying reusable bags. Getting creative and forming a plan is an important step when it means you're not using any plastic. The most basic of necessities may have you scratching your head for a plastic-free solution, (shout out to the people that live plastic free all 365 days). Challenges can arise from what you collect your shopping purchases in, to what you are actually purchasing, which is an eye-opening realization. To help navigate you through a successful #PlasticFreeJuly I thought I would share some ideas that I plan to incorporate into my July; swap out shopping markets for farmers markets is a great way to eliminate visiting establishments that used unnecessary plastic for bagging produce or even crating berries and other fruits. Be sure to carry what I like to call a reusable "survival kit", which includes a reusable water bottle, coffee cup, utensils, canvas bag and for those that enjoy drinking out of a straw toss one of those reusable ones in your kit as well.  
Another area that can pose as an obstacle during plastic free challenge is at home, which in my pre-planning phase I have opted to simplify what I need to account for by breaking down my plastic use by rooms; kitchen, laundry room, and bathroom. In the kitchen I plan to purchase in bulk, store food in reusable containers and make sure to purchase my items for the kitchen using reusable bags. The laundry room will require me to break- up with an old favorite, which is my dryer sheets—they are in fact made of polyester (a form of polymer plastic). The polymer plastic sheet is covered in a fabric softener chemical typically along with fragrance chemicals, which means all around it's pretty bad for the environment and this break-up may be final. The non-plastic alternative to this is to toss in a non-toxic wool ball or during these hot summer days lay clothes out to air dry. Purchasing clothing detergent in bulk cuts down on the amount of plastic that would normally be needed over a long period of time take it one step further and purchase brands that sell their product in powder form in the cardboard container. 
The bathroom calls for more creative juices to flow for toothbrushes there are a broad array of alternatives my personal favorite is the bamboo toothbrush, which is just as easy to find in stores as their plastic counterparts. Buying traditional bar soap sold in cardboard boxes is easy to find and also eliminated the issue of how one can continue to practice good hygiene during this no plastic challenge (ha- ha). There is even a market for shampoo and conditioner bars although those aren't always sold in mainstream stores but have become more and more popular since the inception of the plastic free challenge. I will admit many of the items that are considered sustainable or minimal in their carbon footprint still use plastic packaging, so in some ways this pesky material is still unavoidable. 
All in all, the challenge will be a challenge of not only changing your habits for a month but challenging you to see how your own purchasing habits can be adapted to fit a more sustainable lifestyle moving forward. I have no doubt that it will be a challenge for most of us, but it will teach each of us to consider our actions and how every purchase makes for a responsible or irresponsible consumer. As always Reduce, Reuse, Recycle. Until next time green folks!
KOB's very own Content Writer,
Shavara J.
References: