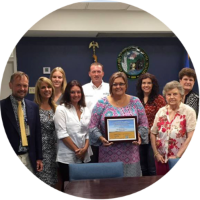 The intention of the Oklahoma Clean Community Award is to provide recognition to those entities (i.e., towns, cities, rural communities, tribes, counties, extension units, etc.) that participate, cooperate, and/or collaborate in cleaning up tire dumps, implementing preventative measures to stop illegal tire dumping in their communities, and encourage good environmental stewardship through service projects. To see a map of the current clean communities in Oklahoma, click here. 
In addition to participating in these cleanups, recognized communities must also register for the Great American Cleanup and one of KOB's other programs.
FOR MORE INFORMATION ABOUT THE CLEAN COMMUNITY AWARD OR TO APPLY FOR THE AWARD, CONTACT KELLY DILLOW, OKLAHOMA DEPARTMENT OF ENVIRONMENTAL QUALITY, USED TIRE RECYCLING PROGRAM. 405-702-5291 OR KELLY.DILLOW@DEQ.OK.GOV.
TO APPLY FOR THE DEQ CLEAN COMMUNITY STATUS CLICK HERE TO DOWNLOAD THE APPLICATION.