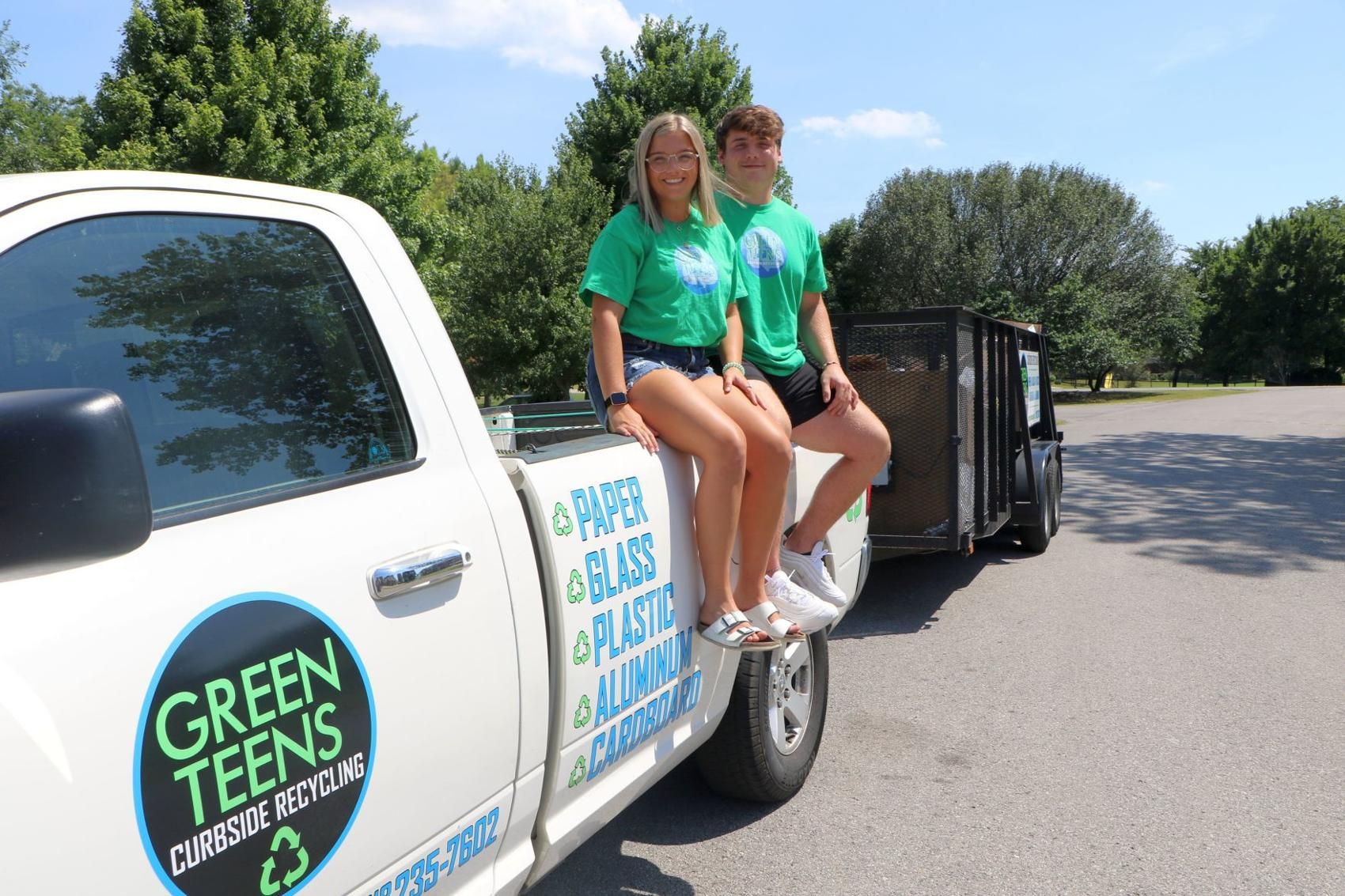 Greetings green friends! Thank you for taking time out to read about some amazing folks that we happened to come across in Owasso, Oklahoma that are making a mighty big environmental impact, and are a shining example that age certainly has no bearing on the type of environmental impact you can make. I'm always inspired when I hear about local stories of people right here in Oklahoma making a difference in their communities, being the change, they wish to see in the world. 
Jake Sherman along with his teenage children Sydney and Seth started their curbside recycling company Green Teens, based in Owasso, Oklahoma six years ago and it has since grown bigger than anyone could imagine. Jake first had the idea to not only teach his children responsibility, but also allow for them to earn extra money, while also doing something to make a positive environmental difference. He purchased all of the supplies himself and the brother and sister duo operated the company entirely. The Sherman's thought was that their service offered the perfect solution to the recycling issue faced in Owasso. They provided their own version of curbside recycling because the city of Owasso did not offer curbside recycling, but many people in the city had expressed a desire to be able to recycle more conveniently and they made it easy for the residents to participate in it.
 Traditionally the residents would have to sort and drop off their recycling at their local recycling dumpsters located at school sites, but with the Sherman's service that task was taken care of for them. In reality their service not only created a cleaner stream of recycling, but also cut down on the amount of emissions from vehicles going to and from the various school recycling dumpsters. 
Sydney and Seth have been so sought after for their services since the inception of their business that what started out as two sibling collecting curbside recycling is today a legitimate company operating under the name Green Teens, and you can visit their website to request quotes if you live in the areas serviced, which I have no doubt will continue to expand. They have also recently received a grant of $10,000 from the ever-sustainable minded PepsiCo Recycling, so that they can continue to operate having grown to 130 customers and are now servicing Owasso, Verdigris and Collinsville. The expansion of the Sherman's business will allow them to divert an additional 23 tons of material from landfills annually, which is no small feat considering this is still a small family business of three! The siblings are responsible for the sorting and drop off all items collected and have even created a document to help customers understands what can and cannot be recycled, and what options are available for recycling various items in their area. I mean can you say local Captain Planet's or what? To celebrate the well-earned grant, the Sherman's will waive the $60 sign-up fee for 150 new residential customers. A few bonus points also go to the fact that unlike traditional curbside programs that operate once a week the Sherman's run routes twice weekly instead of once and have recently done some upgrades by replacing bags with bins and cans for the customers along their routes. They have also invested in a new vehicle and utility trailer all of which was done with the money provided in part by the PepsiCo Recycling grant.
Six years ago, Jake Sherman and his two teenage children, Sydney and Seth started out wanting to create a small change for their community by providing a more readily accessible means of recycling when they decided to start their own recycling business and it has since grown into an exceedingly in demand booming business. Their story stands as a reminder that neither manpower, age, or funding can stand between someone starting and succeeding at something that they are passionate about.  The Sherman's success is because of hard work, passion, and discipline and through their environmental efforts these young people are giving so many people the opportunity to make their own environmental impact. I'll leave you here green friends until next time; Reduce, Reuse, Recycle.
To learn more about Green Teens Curbside Recycling and to obtain a copy of their recycling guide, visit their website at owassorecycling.com or call 918-235-7602. 
KOB's Very own Blog Contributor,
Shavara J.
References:
www.owassorecycling.com
https://www.recycleok.org/wp-content/uploads/2020/08/OKRANewsAug2020.pdf