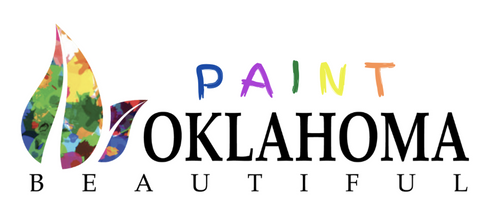 Paint Oklahoma Beautiful encourages volunteers to seek out unsightly community structures and renovate them with the creative use of resources. Willing volunteers make use of paint donated by HIS Paints and a stipend for supplies provided by the Public Service Company of Oklahoma to transform that forgotten community structure with the application of fresh paint and a lot of elbow grease! #POBinOK
Questions? Visit the FAQ section below, or send us an email to admin@keepokahomabeautiful.com
PROGRAM TIMELINE
JULY 31: ALL APPLICATIONS CLOSE
MID-AUGUST: SELECTED PARTICIPANTS NOTIFIED
LATE-AUGUST: PAINT DELIVERED
SEPTEMBER: PROJECTS COMPLETED
OCTOBER 1: WRAP-UPS & "AFTER" PHOTOS DUE
MID-OCTOBER: COMMUNITIES PRIMED FOR CHANGE CONTEST
---
---
Paint Oklahoma Beautiful in the media!
---
FAQ
What does #POBinOK stand for?
Paint Oklahoma Beautiful in Oklahoma
How do I qualify for the cash prize?
Register and complete a Paint Oklahoma Beautiful project! Prize money will be awarded to the top three qualifying projects in the "Before/After" contest.
What would disqualify me from the contest?
Organizations/Groups that use more than the two colors provided or change the provided color will be disqualified. 
Who's responsible for painting the structure?
The organization/group/individual can paint the structure themselves, hire painters, and/or use volunteers. 
How do I receive my paint and supplies?
Supplies are delivered by a Keep Oklahoma Beautiful staff member to a Wal-Mart parking lot or other business parking lot within 100 miles give or take of your location!
What are the cash prize amounts, and how will they be chosen? How else will I be recognized?
Projects that qualify for the "Before/After" contest will be put to a public vote. The top three highest votes will be given to our paint sponsor who will choose the winners in order and funds disbursed as follows:
1st Place - $1,000
2nd Place - $750
3rd Place - $500
Organizations/Groups will be invited to be recognized at our Environmental Excellence Celebration and the order of winners announced at the event. 
Can I apply for more than one structure?
Yes! However, please note that no more than 3 stipends for one registered group. For example: A town that registers and is approved for 6 projects, will only receive up to three stipends. 
Can I paint a mural?
Yes, however, as stated above, projects that use more than the two colors provided will be disqualified from the contest and the opportunity to win prize money. Our suggestion is to paint a shadow mural with the 2 colors provided. 
What colors are available?
Tan, Clay and Brown.
What structures qualify? 
A structure that is in the public eye for a public purpose. For example: Structures seen when entering or leaving the town, a structure on Mainstreet, a church, and/or other public structures. 
What structures don't qualify?
Private homes that are not part of a public project. For example: Private homes located on a private street which a town has chosen to revitalize. 
Can I paint a historic Masonry structure?
We leave that decision up to the individual or group. Do keep in mind painting a Masonry unit can lead to erosion and damage to said structure. For more information on how to preserve a Masonry, structure click here and, for information on how to remove graffiti from a Masonry structure click here. 
Do I qualify to apply for the power washer?
Only those that have applied for Paint Oklahoma Beautiful are eligible to apply for the power washer. 
How many Power Washers can I apply for?
One.
How much does a 5-gallon pail of paint weigh?
55 pounds. 
---
2022 Top 3 Communities Primed For Change - Before & After Contest
Top 3 2022 Before & After Communities Primed For Change Finalists